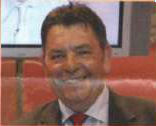 He stepped into his current role in 2004, where he continues to set new levels of quality and implement innovative strategies for the development of Mondial's Recovery service provider network.
In 1998, Jack was awarded the Frank Smith Memorial Trophy by the Association of Vehicle Recovery Operators (AVRO) for the person making the most significant individual contribution to the recovery industry by raising it's standards and image.

Jack is also a member of this forum and we are all proud to be associated with him and the trade he represents, well done Jack.
His illustrious career includes nearly 24 years in the Corps of Royal Electrical & Mechanical Engineers. (R.E.M.E.). While serving in the army as a Recovery Mechanic, he also became a category 'F' member of AVRO and became and a full member of the IVR in 1984. Jack represents Mondial in all industry and government association activities. Mac Hobbs, the chairman of the IVR concludes, "Each year we select an individual deserving special recognition for their contribution to the industry. Jack is held in high esteem within the recovery industry and has shown unflinching dedication and commitment to raising standards. As a highly respected member of the industry we are delighted to award Jack a Fellowship of the Institute.