This year's SAMSON'S PRIDE (Recovery TTX) took place in Sennelager from 15 February to 14 March. 20 CS Coy from 3 Bn REME and 2 CS Coy from Bielefeld co-hosted the event which saw craftsmen and instructors coming from the UK, Cyprus and across Germany.
This Tactical Training Exercise (TTX) is used as a training and assessment tool to upgrade and qualify Class 3 Recy Mechs to Class 2 status and for competency and currency training for all other personnel involved.
Due to the increasingly high tempo of commitments, it is not easy to deliver the necessary training for the Class 3s to gain Class 2 'in-unt'. Taking the students away from their units and 'ring fencing' both manpower and equipment enables the training to take place in an environment free of distractions that would otherwise take priority. It also allows for the varying standards of Class 3s and means that external validation can be undertaken.
The exercise was broken down into four phases: CRARRV, Foden, Trailers and Foden Roadside. Each phase took five days with the last part being a maintenance day to ensure the
vehicles were fully fit for their next job. The students were placed into syndicates of four to five and were continually assessed. The training was not restricted to trade alone but ensured that the craftsmen were able to command and control real time tasks.
The highly successful open day on 29 February was attended by a range of visitors including; Col Duncan DACOS ES, HO LAND, Col Feldmannis, Comd ES Theatre Troops and Lt Col Fram, CO 6 Bn REME. Following demonstrations by students on the course there was a chance for the tradesmen to talk through issues and discuss proposed changes to the trade. Later that day, Brig Beckett, Commander 20 Armoured Brigade, was also able to attend and he was shown various recovery tasks on a whistle stop tour of the Training Area.
During the final rehabilitation phase, Brig McCall, DEME(A), visited the exercise. This was an excellent opportunity for the TTX hosts to demonstrate the results of an extremely interesting and rewarding exercise that fulfilled all the training objectives and was enjoyed by all involved. Roll on SAMSON'S PRIDE 2009...!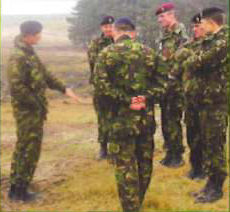 Brig Beckett, Comd 20 Bde, is fascinated by SSgt Bothas's description of a CRARRV job.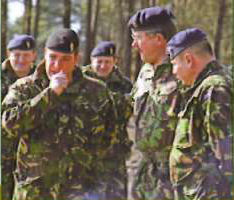 SSgt Conroy explains to DEME(A) about the new plasma cutting equipment which was tested on the TTX.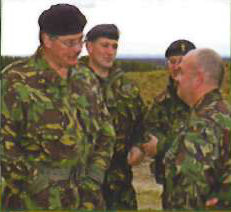 DEME(A) chats with SSgt Lyndhurst MC about his instructing role on the TTX.